Materials, Components & Finishes
Protocase stocks a wide variety of hardware items that enhance the functionality of electronics enclosures. If we don't stock it, we can usually obtain just about any item that you may wish to utilize in your design. We've listed a few of the most common items below for your convenience. If you have questions regarding details or availability of hardware items, please email us at tech@protocase.com and we'll respond to you quickly.
Rubber Feet
Rubber feet help protect benchtops, increase friction to prevent slipping, deaden sound, and generally improve the feel of your enclosure. We have four common styles, small, medium, large, and taper. Choose by considering size, weight, and interior space. For normal enclosures, small feet are suitable for enclosures under 10", medium feet for enclosures under15", and large for enclosures greater than 15". We don't recommend taper feet unless there is no room to accommodate attachment studs and nuts required by small, medium or large feet.
Notes:
Taper feet attach via adhesive (we generally ship them unattached, and you put them in place when you receive your enclosure. For proper adhesion, we recommend you only use them with non-textured powdercoat.
Recommended Clearance holes:
| | | |
| --- | --- | --- |
| Type | Stud | Clearance hole |
| Small | 6-32 | 0.160" (4mm) |
| Medium | 8-32 | 0.188" (4.75mm) |
| Large | 10-24 | 0.210" (5.4mm) |
Handles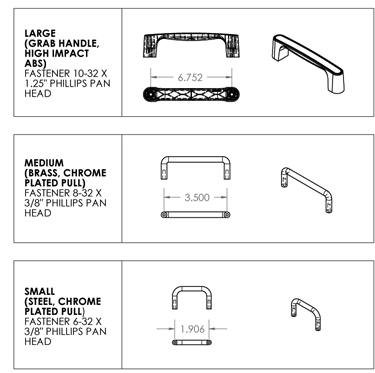 We have access to a wide variety of handles, but the small chrome, medium chrome, and large plastic handles shown on the right are the most common choices of our customers.
Handles are commonly used on rackmount enclosures (as per the table below), as well as any other miscellaneous application that calls for them.
| | | |
| --- | --- | --- |
| Handle | Rackmount height | Clearance hole |
| Small | 2U | 0.160" (4mm) |
| Medium | 3U, 4U | 0.188" (4.75mm) |
| Large | 5U and greater | 0.210" (5.4mm) |
To determine a mounting pattern for a handle, use the center-to-center distance shown on the drawing on the right, and the clearance hole recommendations shown in the table above.
Drawer Slides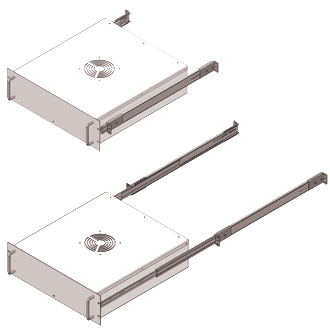 Drawer Slides are most commonly used with rackmounts when easy access is required. For this application, PEM nuts are mounted in the enclosure, and drawer slides fastened using pan head screws. Brackets are used to attach the slides to the rack. Drawer slides are versatile, and also solve a number of other problems where linear motion is required.
We commonly use two styles
Accuride 2907 Ultra-Thin Series
The Narrowest, Full Ball Bearing Slide for 1U to 4U Chassis (fits standard width enclosures without modification)
Thin side space .38" (9.6 mm)
Low profile height 1.62" (41.1 mm)
115 lb. [52 kg] load capacity
Two inches [50.8 mm] of over travel
Available in even lengths12"-30" [305-762 mm]
Accuride 3307 Medium Duty Series
150 lb [68 kg] capacity
1" [25.4 mm] over travel
.50" [12.7 mm] side space (enclosure must be modified to reduce width by 0.25" [6.35 mm] to accommodate)
Available in even lengths12"-30" [305-762 mm]