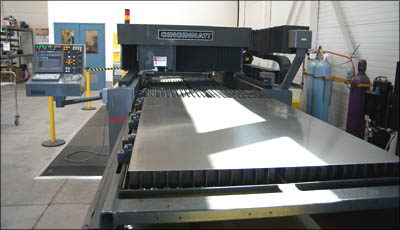 Aluminum
Aluminum is corrosion resistant and light weight. Lower structural stiffness than steel (about 1/3), must be compensated for by thicker gauge.
Finish:
Powdercoat
Fasteners and PEMS:
Protocase recommends zinc plated steel for ordinary (dry) applications. We recommend upgrading to Stainless Steel for more aggressive environments. Maximum durability will come from use of aluminum PEMS and fasteners, but they are very soft and we do NOT stock them. (As an example of the durability of the stainless steel / aluminum combination, these two metals are regularly used on sailboat masts, where the mast itself is aluminum and the hardware and fasteners stainless steel. The combination is generally durable despite exposure to salt spray and rainwater. However, use of dissimilar metals under conditions of prolonged immersion (such as below waterline on a boat) is not acceptable as galvanic corrosion will result. Stocked Alloy: 5052 Non-stocked: 6061 available on special order
Stocked Aluminum 5052 alloy
.188"
.125" (8 gauge see caution on gauges below)
.091" (11 gauge)
.081" (12 gauge)
.064" (14 gauge)
.051" (16 gauge)
.040" (18 gauge)
.032" (20 gauge)
Gauges are typically not used when specifying aluminum as the actual thickness of the aluminum is more internationally recognized. It starts at sheet by thickness and migrates into plate at the thicker end of the scale. 5052 Aluminum is a non heat treatable alloy that is readily welded by conventional methods. It has good forming characteristics and good corrosion resistance, including resistance to salt water.