Enclosure Design Services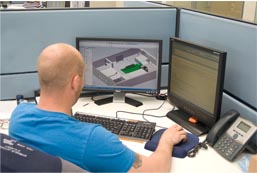 Our experienced design staff can design your enclosure for you, starting from anything from a rough description, to components and circuit boards. Design Services are used by customers who are
too busy to take on the design work themselves
, and wish to free up staff for other tasks, or who simply
lack the resources or know-how required to design their enclosure
. Our design staff's speed and experience make our design services
surprisingly cost effective
, and you may save further time because their intimate knowledge of Protocase's manufacturing capabilities virtually eliminates non-manufacturable features and resultant revision cycles.
Step 1:
Start by contacting an account manager, who will discuss your requirements, and ask you to send a description of your enclosure, which may be in one of the following formats:
Step 2:
Protocase will send you a quote for the cost of design services, and the cost of manufacturing the enclosure (note that this is only possible if your description is sufficiently complete - if not you will be quoted a range).
Step 3:
Protocase designs your enclosure, consulting with you when required. An edrawing is sent to you for your approval.
Step 4:
Once you've approved the edrawing, CAD files are sent to you in a format of your choice. You own the design. Also, if requested, your design will enter production.
Terms & Conditions
When engaged to provide 'design services', Protocase will supply drafting services to create CAD designs, under your direction, using design details, drawings or sketches, verbal descriptions, components, or other guidance or information provided by you. You own any and all CAD drawings produced as a result of this engagement. You must approve the final drawing before it enters manufacturing. It is your responsibility to ensure that the final design is suitable for your purposes. Quotations are based on the information provided by you at the time the quote was given. Should the scope of the project change, Protocase reserves the right to adjust the estimate. Quoted prices include time to create the design, plus two iterations. If further iterations are required, Protocase reserves the right to adjust the estimate. Should it become necessary to adjust our estimates, Protocase will make every effort to inform you as soon as possible. Please note that additional lead time is required for design services. The total time to have a design services enclosure built is the sum total of the design services lead time, time that you take to approve the design, plus the manufacturing lead time. Protocase will make every effort to maintain customer privacy in the normal course of business. However, if there are specific requirements for secrecy or non-disclosure, then arrangements should be made in advance.